X-Ray CT for Quantitative Casting Material Evaluation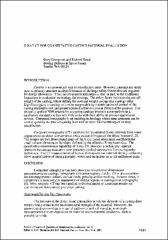 Series
Review of Progress in Quantitative Nondestructive Evaluation
Begun in 1973, the Review of Progress in Quantitative Nondestructive Evaluation (QNDE) is the premier international NDE meeting designed to provide an interface between research and early engineering through the presentation of current ideas and results focused on facilitating a rapid transfer to engineering development.
This site provides free, public access to papers presented at the annual QNDE conference between 1983 and 1999, and abstracts for papers presented at the conference since 2001.
Abstract
Casting is an economical way to manufacture parts. However, castings are rarely used as primary structure in aircraft because of the large safety factors that are required for design allowables. This conservatism in utilization is due, in part, to the traditional limitations in evaluation technology for castings. The safety factor increases the overall weight of the casting, which defeats the cost and weight savings that castings offer. Significant gains in casting utilization are possible by a combination of control of the casting microstructure and proper nondestructive evaluation (NDE) of the product. The presently applied NDE criteria for accepting castings involves a comparison to a qualitative standard and has very little to do with their ability to provide operational service. Computed tomography is an enabling technology whose measurements can be used to quantify the product quality level and improve the consistency of casting manufacture.
Subject Categories
Copyright
Fri Jan 01 00:00:00 UTC 1993
Collections