Analysis and Correction of the Source Parameter Effects for Optimizing the Laser Ultrasonic Mechanical Characterization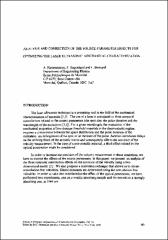 Series
Review of Progress in Quantitative Nondestructive Evaluation
Begun in 1973, the Review of Progress in Quantitative Nondestructive Evaluation (QNDE) is the premier international NDE meeting designed to provide an interface between research and early engineering through the presentation of current ideas and results focused on facilitating a rapid transfer to engineering development.
This site provides free, public access to papers presented at the annual QNDE conference between 1983 and 1999, and abstracts for papers presented at the conference since 2001.
Abstract
The laser-ultrasonic technique is a promising tool in the field of the mechanical characterization of materials [1,2]. The use of a laser is associated to three temporal convolutions related to the source parameters (the spot size, the pulse duration and the wavelength of the excitation) [3,4]. For a given wavelength, the evaluation of the mechanical properties of low-damage threshold materials in the thermoelastic regime, requires a compromise between the space distribution and the pulse duration of the excitation. An enlargement of the spot or an increase of the pulse duration introduces delays on the arriving times of the acoustic waves and consequently affects the accuracy of the velocity measurement. In the case of a non-metallic material, a third effect related to the optical penetration might be considered.
Subject Categories
Copyright
Wed Jan 01 00:00:00 UTC 1997
Collections