Uniaxial three-dimensional shape measurement with projector defocusing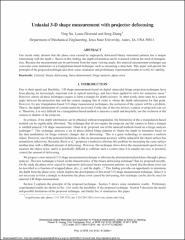 Abstract
Our recent study showed that the phase error caused by improperly defocused binary structured patterns has a unique relationship with the depth z. Based on this finding, the depth information can be extracted without the need of triangulation. Because the measurement can be performed from the same viewing angle, this uniaxial measurement technique can overcome some limitations of a triangulation-based technique, such as measuring a deep hole. This paper will present the principle of the proposed technique and show some simulation and preliminary experimental results to verify its viability.
Comments
This is a conference proceeding from Dimensional Optical Metrology and Inspection for Practical Applications 8133 (2011): 1, doi:10.1117/12.892362. Posted with permission.
Copyright 2011 Society of Photo-Optical Instrumentation Engineers. One print or electronic copy may be made for personal use only. Systematic electronic or print reproduction and distribution, duplication of any material in this paper for a fee or for commercial purposes, or modification of the content of the paper are prohibited.
Subject Categories
Copyright
Sat Jan 01 00:00:00 UTC 2011
Collections