The introduction of smartphones as a tool for agricultural extension in rural Uganda: A three-phase study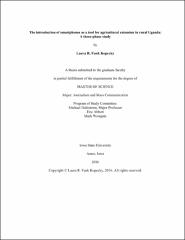 Advisor
Michael F. Dahlstrom
Eric A. Abbott
Altmetrics
Department
Greenlee School of Journalism and Communication
Abstract
While Information and Communication Technologies (ICT) have long been an interest in development efforts, smartphones have only recently become prevalent. The impacts of standard mobile phones are represented in the literature, but smartphones are new enough that little research has been published regarding their use in development contexts. This study follows the introduction of smartphones to an agricultural extension organization in rural Uganda with the goal of understanding what expectations the staff members have for the devices, analyzing the effectiveness of the training provided, and discovering how the staff make use of the phones. In particular, this study pays close attention to the fact that these phones, rather than being adopted by individuals, were adopted by the organization and their use mandated. The study was conducted in three phases. In phase one, semi-structured interviews were used to collect information about how participants use their standard mobile phones to aid in their work duties and their perceptions about and expectations of smartphones. In phase two, participant observation was employed to gain insight into how participants were trained to use the smartphones and what they thought of the training, as well as how they learned to operate the smartphones over the course of the first few weeks of using them. In phase three, conducted six months after the introduction of the smartphones, a survey was used to collect information about how the participants were using the phones and how they felt about them.
The phase one interviews revealed that participants relied heavily on their mobile phones due to the challenges of their rural location; before mobile phones allowed them to communicate with client farmers remotely, they spent most of their time travelling long distances over bad roads to visit clients in person. They expressed excitement at the prospect of smartphones and were most interested in the idea of having a camera on their phone. A few participants expressed concerns about the phones, including worries about short battery life or poor quality, but all participants overwhelmingly expressed that having smartphones would greatly benefit both the individuals using them and the organization as a whole.
Phase two revealed that the two-day training seminar used to introduce the smartphones was both overwhelming and insufficient. Because many participants had never used a smartphone or even a computer before, even the basics needed to be practiced and repeated many times before participants felt confident in their knowledge of them. As a result, only a few applications were introduced. In the weeks that followed many participants had trouble using their smartphones, and many even had trouble using the applications that had been covered during training. However, participants remained positive and inquisitive, and expressed their confidence that they would be able to master their new devices in time.
Phase three revealed that after six months participants were using the smartphones regularly. Participants frequently used the applications they had the most experience with, such as placing phone calls and checking the time or date, and the applications that they had expressed excitement about in phase one, such as taking pictures. Only a few individuals were using novel applications, such as GPS or email. Some participants reported problems with the phones and solar charging kits, but responses were still overwhelmingly positive. Participants reported many positive changes including being viewed as a better resource, experiencing increased communication, and being able to work more efficiently. It was found that a participant's status within the organization, gender, education, location, and functionality of their smartphone all played a role in how they used their phone. Age was not a significant factor.
Subject Categories
Copyright
Fri Jan 01 00:00:00 UTC 2016
Collections