An Experimental Evaluation of the Resonant Ultrasonic Spectroscopy Method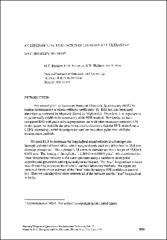 Series
Review of Progress in Quantitative Nondestructive Evaluation
Begun in 1973, the Review of Progress in Quantitative Nondestructive Evaluation (QNDE) is the premier international NDE meeting designed to provide an interface between research and early engineering through the presentation of current ideas and results focused on facilitating a rapid transfer to engineering development.
This site provides free, public access to papers presented at the annual QNDE conference between 1983 and 1999, and abstracts for papers presented at the conference since 2001.
Abstract
For several years we have used Resonant Ultrasonic Spectroscopy (RUS) for routine determination of elastic-stiffness coefficients [1]. RUS has also been used elsewhere as reviewed by Maynard [2] and by Migliori [3]. Therefore, it is important experimentally establish the uncertainty of the RUS method. Previously, we have compared RUS with pulse-echo superposition and with other resonance methods [4,5] In this paper, we describe the process we used to determine that the RUS method has a 0.15% uncertainty, which is comparable with our best short-pulse time-of-flight measurement methods.
Subject Categories
Copyright
Thu Jan 01 00:00:00 UTC 1998
Collections