Local Elastic Property Mapping Via Automation of V(Z) Curve Measurements Using Short-Pulse Acoustic Microscopy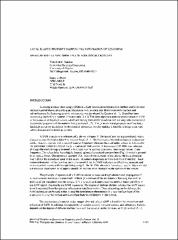 Series
Review of Progress in Quantitative Nondestructive Evaluation
Begun in 1973, the Review of Progress in Quantitative Nondestructive Evaluation (QNDE) is the premier international NDE meeting designed to provide an interface between research and early engineering through the presentation of current ideas and results focused on facilitating a rapid transfer to engineering development.
This site provides free, public access to papers presented at the annual QNDE conference between 1983 and 1999, and abstracts for papers presented at the conference since 2001.
Abstract
Scanning acoustic microscopy (SAM) is a high-resolution nondestructive method useful for near-surface material elastic property quantification as well as crack size determination for surface and subsurface cracks. Scanning acoustic microscopy was developed by Quate et al. [1, 2] and has been extensively studied by a number of researchers [3–11]. The most important contrast phenomenon in SAM is the presence of Rayleigh waves, which are leaking toward the transducer and are very sensitive to local mechanical properties of the material being evaluated [12]. The generation and propagation of the leaky Rayleigh waves are modulated by the material properties, thereby making it feasible to image even very subtle changes in the elastic properties.
Copyright
Fri Jan 01 00:00:00 UTC 1999
Collections