Influences of Fashion Leadership, Preference for Exploratory Behavior, and Need for Cognition on Consumers' Use of Internal Information and Tolerance for Risk-Taking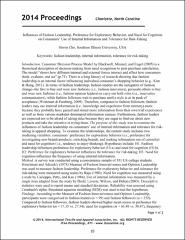 Series
International Textile and Apparel Association (ITAA) Annual Conference Proceedings
The first national meeting of textile and clothing professors took place in Madison, Wisconsin in June 1959. With a mission to advance excellence in education, scholarship and innovation, and their global applications, the International Textile and Apparel Association (ITAA) is a professional and educational association of scholars, educators, and students in the textile, apparel, and merchandising disciplines in higher education.
This site provides free, public access to the ITAA annual conference proceedings beginning in 2015. Previous proceedings can be found by following the "Additional ITAA Proceedings" link on the left sidebar of this page.
Abstract
Consumer Decision Process Model by Blackwell, Miniard, and Engel (2005) is a theoretical description of decision-making from need recognition to post-purchase satisfaction. The model "shows how different internal and external forces interact and affect how consumers think, evaluate, and act" (p.71). There is a long history of research showing that fashion leadership is an internal factor influencing individual consumer's shopping behavior (e.g., Kim & Hong, 2011).
Subject Categories
Collections