Adjusting farm rents to changes in prices, costs and production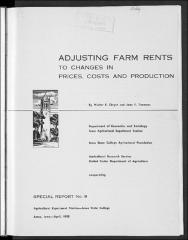 Abstract
Landlords and tenants are continually searching for means to keep their rents up to date with changing prices, costs and production. Their problem arises from the inflexibilities of rental terms as fixed by custom and contract— coupled with wide variations in prices of farm products, in costs of land ownership and farm operation and in crop yields and livestock produced. This study was designed to discover ideas and information which should prove helpful to landlords and tenants interested in introducing rent flexibilities into their farm leases. The study has three objectives:
(1) To analyze the division of net income between landlord and tenant over a period of years in order to determine the extent to which and the rapidity with which it reflects cost, price and production changes.
(2) To determine possible reasons for rent inflexibilities and to analyze these reasons in terms of effects upon landlord-tenant relations.
(3) To develop and analyze several rent adjustment alternatives in terms of their weaknesses and strengths.
Subject Categories
Collections