Co-products of the United States biofuels industry as alternative feed ingredients for aquaculture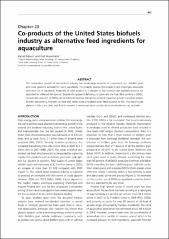 Department
Agricultural and Biosystems Engineering
Abstract
The tremendous growth of the biofuels industry has made large amounts of co-products (i.e. distillers grain and crude glycerin) available for use in aquafeeds. This chapter reviews the prospects and challenges associated with their use in aquafeeds. Properties of each product as it pertains to fish nutrition and available research are described for different fish species. Despite the apparent deficiency in lysine and the high fibre content in DDGS, considerable amounts of DDGS can be fed to omnivorous fish species without impact on growth or product quality. Nutrient variability is, however, an issue that needs to be considered when feeding DDGS to fish. The use of crude glycerin in fish is less clear, and further research is necessary before nutritional recommendations can be made.
Comments
Posted with permission of the Food and Agriculture Organization of the Unived Nations.
Source: Food and Agriculture Association of the United Nations, 2012, Biofuel co-products as livestock feed: Opportunities and challenges, http://www.fao.org/docrep/016/i3009e/i3009e00.htm.
Subject Categories
Copyright
Sun Jan 01 00:00:00 UTC 2012
Collections