Modernizing a midwestern farmhouse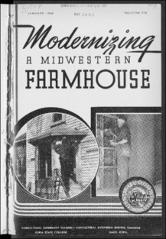 Department
Extension and Experiment Station Publications
Abstract
When the farm family considers remodeling its house, usually it wishes to bring about one or more outstanding changes such as providing more room, changing the stairway, adding a bathroom, providing a more convenient kitchen, making the front entrance more usable, or just making the house generally more attractive and more livable.
For most farm families the experience of planning and remodeling a house comes only once in a lifetime. Few families can hope to profit by experience.
We shall try to show in this bulletin how an Iowa farm family remodeled a farmhouse, thereby improving its appearance and convenience and raising the level of living for the family.
Subject Categories
Collections