Collection and Monitoring of One-meter Cubic Soil Monoliths for Leaching Systems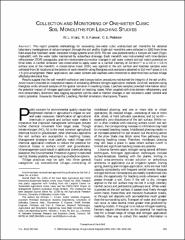 Department
Agricultural and Biosystems Engineering
Abstract
This report presents methodology for excavating one-meter cubic undisturbed soil monoliths for detailed laboratory investigations of solute transport through the soil profile. Eight soil monoliths were collected in 1992 from three field areas that had been under consistent tillage systems since 1978. The soil was predominantly a Kenyon silt loam (Typic Hapludoll) with the water table maintained by subsurface drainage. Each monolith was instrumented with time-domain reflectometer (TDR) waveguides, and mini-tensiometers to monitor changes in soil water content and soil matric potential on three sides. A rainfall simulator was constructed to apply water at a rainfall intensity of 33 mm-h–1 to a 0.8 m × 0.8 m surface area of the monolith. A conservative tracer (KBr) was applied to the soil surface and leachate samples were collected from 36 locations at the bottom of each monolith using fiberglass wick extractors attached to 810 mm2 areas in a 6 ×6 grid arrangement. Water application, soil water content and leachate were monitored to determine how surface tillage affected preferential flow.

Results suggest that the soil monolith collection and transportation procedures maintained the integrity of the soil profile. Anion tracers provided an inexpensive means of simulating different nitrogen application methods. Grid cell samplers using fiberglass wicks allowed analysis of the spatial variation in leaching losses. Leachate samples provided information about the potential impact of nitrogen application method on leaching losses. When coupled with time domain reflectometry and mini-tensiometers, electronic data logging equipment can be used to monitor changes in soil volumetric water content and matric potential.
Comments
This article is from Transactions of the ASAE 41 (1998): 333–344, doi:10.13031/2013.17183. Posted with permission.
Subject Categories
Copyright
Thu Jan 01 00:00:00 UTC 1998
Collections