First Measurements from a New Broadband Vibrothermography Measurement System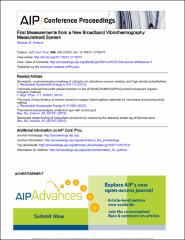 Abstract
We report on the construction and development of a broad‐spectrum vibrothermography (Sonic IR) measurement system at the Center for NDE. The new system uses a broadband actuator instead of an ultrasonic welder to generate vibration and induce heating of cracks. A high‐resolution infrared camera captures the IR signature of a crack, and a reconfigurable data acquisition software system acquires and processes the IR images and vibrometry waveforms in real time. We present and discuss results from initial experiments with this system, including the frequency dependence of vibrothermographic heating of flaws in a jet turbine stator vane and an analysis of the correlation of heating with vibration frequency in a cracked test specimen.
Comments
Copyright 2007 American Institute of Physics. This article may be downloaded for personal use only. Any other use requires prior permission of the author and the American Institute of Physics.
This article appeared in AIP Conference Proceedings, 894 (2007): 478–483 and may be found at http://link.aip.org/link/doi/10.1063/1.2718010.
Subject Categories
Copyright
Mon Jan 01 00:00:00 UTC 2007
Collections