Residual Bias Phenomenon in Air‐Coupled Ultrasonic Capacitive Film Transducers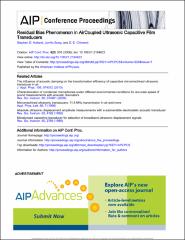 Abstract
We discuss in this paper the underlying physics of a residual bias phenomenon, whereby the metalized Mylar films of air‐coupled film transducers accept and retain a residual electrostatic charge. Experimental measurements to demonstrate and quantify this effect are reported here, along with a hypothesis of the mechanism of charge transfer and embedding. The measurements show the amplitude performance of the capacitive film transducers as a function of applied bias voltage and frequency. Factors such as humidity and decay time also play roles in the acquisition and holding of charge on a film. We hypothesize that charge transfers from the conductive backplate and collects on the non‐metalized side of the film. The charged films therefore are electrostatically attracted to the transducer backplate even with no applied voltage bias. Typically, an externally applied bias voltage is needed to charge the capacitor. With a persistent residual bias effect, these air‐coupled capacitive film transducers could be used like conventional piezoelectric transducers with no biasing required. This effect has substantial implications for the operation of air‐coupled film transducers.
Comments
Copyright 2006 American Institute of Physics. This article may be downloaded for personal use only. Any other use requires prior permission of the author and the American Institute of Physics.
This article appeared in AIP Conference Proceedings, 820 (2006): 916–921 and may be found at http://dx.doi.org/10.1063/1.2184623.
Subject Categories
Copyright
Sun Jan 01 00:00:00 UTC 2006
Collections