Three essays on food safety and foodborne illness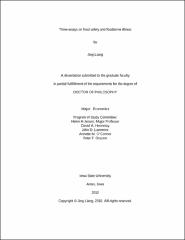 Altmetrics
Abstract
This dissertation explores economic impacts of food related illness on agricultural industries and models the performance of food safety programs on supply chain participants. Three stand-alone studies are dedicated to economic analysis on food safety issues from different approaches analytically, empirically, and in simulation.
In response to recent outbreaks of food-borne illness, the fresh produce and fruit industries have adopted marketing agreements to ensure the consistency of food safety. Chapter 2 presents a theoretical framework and simulation analysis to illustrate farmers' behavior on implementing Good Agricultural Practices (GAPs), and the design of monitoring strategies in setting marketing agreements. It reveals that, if the monitoring resources are not high enough to achieve full compliance on GAPs, the general rule is to allocate resources so that the total amount of decreased fraud in terms of safety effort is the same for all farms. When auditing resources are very low, the size effect is dominant and larger farms are inspected first; when auditing resources are large enough, the cost effect is dominant and smaller farms are inspected first. The optimal auditing probability for smaller farms increases faster than that for larger farms.
Contracts now are widely used between processors and growers to specify product quality and safety attributes. Chapter 3 employs a multitask principal-agent model to analyze the optimal incentive structure in contract food production. It offers guidance on understanding contractual relations for both food quality and food safety, and how the inclusion of a traceability system influences the provisions of the contract.
Recent outbreaks of highly pathogenic avian influenza (HPAI) in Asia, Europe, and Africa have caused severe impacts on the broiler sector through production loss, trade restrictions and negative demand shocks. Chapter 4 presents a multimarket econometric model to conduct simulation analyses on the spread and market implications of a potential HPAI outbreak in U.S. broiler industry. It takes into account market power that might exist within the livestock and meat sectors and makes endogenous the optimal production conditions in the model system. Findings from the analysis imply that the HPAI shocks impact prices at different marketing levels unequally and change the price margin along the supply chain with the existence of market power. However, the change in the price margin is quite small in absolute value.
Subject Categories
Copyright
Fri Jan 01 00:00:00 UTC 2010
Collections