Measurement and analysis of the relationship between employee perceptions and safety and quality decision-making in the country grain elevator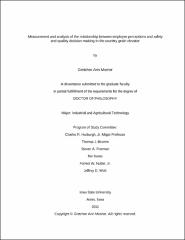 Altmetrics
Department
Agricultural and Biosystems Engineering
Abstract
Human factors play an important, but often overlooked, role in the management of safety and quality in the work environment. Workplace safety and quality are two of several competing organizational demands. The relative priority of these demands is formed by perception, based in part on employee experiences and practices. One human factor believed to influence employee perceptions of workplace safety and quality is trust.
Links between trust and safety outcomes and safety perceptions and safety behavior have been explored by researchers, but little research has examined the relationships between trust and quality perceptions or between employee perceptions and employee decision-making, an important precursor to employee behavior. Because safety and quality depend heavily on decisions employees make, an increased understanding of factors influencing employee decision-making processes provides information helpful to those wishing to improve organizational safety or quality.
This research examined the predictive relationships between employee perceptions of trust, safety, and quality and employee decision-making in safety and quality. Data were collected in two parts. First, 180 workers at a three grain handling facilities were surveyed on three aspects of organizational climate: trust, safety, and quality. Each survey instrument asked for employee perceptions concerning two levels of administration: supervisors and management.
Next, employee decision-making was measured using two computerized decision-making scenarios. The safety decision simulation asked employees to decide whether to take a safety shortcut that would save time but present a higher safety hazard. The quality decision scenario asked the employee to choose between following company policy and handling the product in a manner that preserved its quality. Decision software tracked both the final decision choice and the factors employees used to make the decision.
Using regression analysis and bi-variate correlation, the relationships between variables were calculated at the management and supervisory level. Significant positive relationships were noted between supervisory and management trust and employee perceptions of a more positive safety climate. Although trust in management did not significantly predict a more safety-oriented decision choice, a significant relationship was observed between trust in supervisors and a more positive safety decision choice. Results from the quality decision data demonstrated a positive significant relationship between trust in management and a stronger quality climate as well as a higher inclination to use the factors of customer service and company policy when making quality decision choices. At the supervisory level, trust significantly the decision choice, but did not predict a stronger quality climate or any factors in the decision process.
The increased role of supervisors in employee decision-making is not a surprise, given most supervisors' increased interaction with employees; however, perceptions of management clearly influence how employees perceive the workplace climate. Implications of this research are important for supervisors and managers who wish to better manage safety and quality at their organization and for those who wish to develop more targeted workplace intervention and training programs.
Subject Categories
Copyright
Sat Jan 01 00:00:00 UTC 2011
Collections