The Communication Effectiveness of Scientist-Stakeholder Partnerships Addressing Agriculture and Natural Resources Issues: A Citation Analysis of the Florida Water and Climate Alliance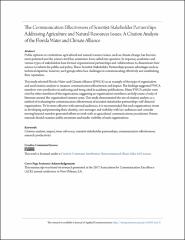 Department
Agricultural Education and Studies
Abstract
Public opinion on contentious agricultural and natural resource issues, such as climate change, has become more polarized and the science itself has sometimes been called into question. In response, academics and various types of stakeholders have formed organizational partnerships and collaborations to disseminate their science to inform the public and policy. These Scientist-Stakeholder Partnerships possess advantages such as technical expertise, however, such groups often face challenges in communicating effectively and establishing their reputation.
This study selected Florida Water and Climate Alliance (FWCA) as an example of this type of organization and used citation analysis to measure communication effectiveness and impact. The findings suggested FWCA members were productive in authoring and being cited in academic publications. Many FWCA articles were cited by other members of the organization, suggesting an organization's members can help create a body of literature around the organization's interest areas. This study demonstrated the use of citation analysis as a method of evaluating the communication effectiveness of scientist-stakeholder partnerships/self-directed organizations. To be more effective with external audiences, it is recommended that such organizations invest in developing and promoting their identity, core messages and visibility with key audiences and consider moving beyond member generated efforts to work with an agricultural communications practitioner. Future research should examine public awareness and media visibility of such organizations.
Comments
This is a paper from Qu, Shuyang, Tracy Irani, and Angela B. Lindsey. "The Communication Effectiveness of Scientist-Stakeholder Partnerships Addressing Agriculture and Natural Resources Issues: A Citation Analysis of the Florida Water and Climate Alliance," Journal of Applied Communications 102, no. 1 (2018): 6. doi: 10.4148/1051-0834.1755.
Subject Categories
Copyright
Sun Jan 01 00:00:00 UTC 2017
Collections