Sequential rhetoric: Teaching comics as visual rhetoric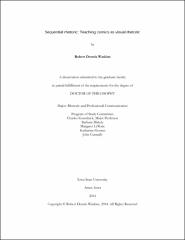 Abstract
With the demand for data visualization and technical visuals perpetually growing, creating effective graphics in professional communication has become even more exigent. However, when students are asked to include graphics in a document, most turn to generic Google image searches or
tired clipart without engaging in actual image production. My research project is an empirical classroom study that incorporates progymnasmata to enable students to create and analyze comics in a step-by-step process to promote visual literacy. While other assignments can achieve this as well, the art form of comics offers a broad range of technology approaches (from minimal to elaborate software) based in a familiar, creative approach that helps bridge the digital divide.
My dissertation follows a traditional five-chapter format. The second chapter is a literature review of the relevant theory informing my study, including visual rhetoric, multimodality, comics definitions, comics as ancient rhetoric, and comics studies. The third chapter justifies my methodology, explores the theory that drives my methodology (progymnasmata and critical
pedagogy), explains my research project, and explores the codes that emerged. The fourth chapter discusses the different themes that emerged from student's responses while focusing on those most relevant to my research study. The fifth chapter analyzes the student's data, interprets it, puts it in context, discusses its limitations, suggests results unique to comics, and recommends future approaches to the study.
Subject Categories
Copyright
Wed Jan 01 00:00:00 UTC 2014
Collections