Planting Date and Hybrid Maturity Effects on Corn Yield in Iowa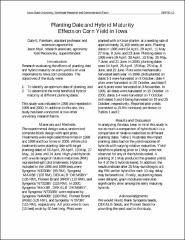 Abstract
Research evaluating the effects of planting date and hybrid maturity on corn yield is of vital importance to Iowa corn producers. The objectives of the study were:
To identify an optimum date of planting, and
To determine the most beneficial hybrid maturity at different planting dates.
This study was initiated in 1998 and repeated in 1999 and 2000. In addition to this site, this study has been conducted at two other university research farms.
Subject Categories
Copyright
Mon Jan 01 00:00:00 UTC 2001
Collections