"Campusing" in Our Own Tea Room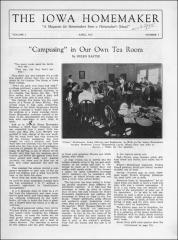 Department
Iowa State University Digital Repository
Abstract
They don't say why because it's a rule that doesn't always hold true, as for example in the Campus Tea Room at Iowa State College.
"Don't the girls ever have bad luck?" a college professor, a mere man, innocently asked after a delightful luncheon m the Campus Tea Room one day. "I've been eating here for over a year and I've never been able to find fault."
The Campus Tea Room was the realization of a dream of Dean McKay. For several years it had been considered. Members of the Home Economics faculty wanted it because it would help to solve the problem of a warm noonday lunch. Home Economics students wanted it because of the opportunities for young women with experience in such lines of work.
Subject Categories
Collections