Design and Optimization of RSV F for Vaccination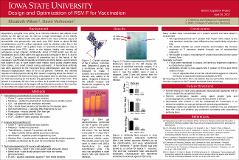 Series
Honors Projects and Posters
The Honors project is potentially the most valuable component of an Honors education. Typically Honors students choose to do their projects in their area of study, but some will pick a topic of interest unrelated to their major.
The Honors Program requires that the project be presented at a poster presentation event. Poster presentations are held each semester. Most students present during their senior year, but may do so earlier if their honors project has been completed.
This site presents project descriptions and selected posters for Honors projects completed since the Fall 2015 semester.
Department
Chemical and Biological Engineering
Abstract
Respiratory syncytial virus (RSV) is a common infection that affects most infants by the age of two, as well as a large percentage of the elderly population. Currently, the majority of prevention lies in the hands of the caretakers: wash hands frequently, avoid contact if sick or have babies wear masks, keep young children away from babies, avoid crowds during outbreaks. As these methods are not always feasible, this project aims to develop a vaccine for RSV by focusing on the fusion (F) glycoprotein. This protein is necessary for the virus to infect, as it assists the virus in fusing to the plasma membrane of the target cell, assisting in the injection of viral RNA into target cells and in spreading the virus to other cells. This work aims to manufacture a recombinant F protein, express high quantities of it, and test its immunogenicity in mice. The virus was tested in both eukaryotic and baculovirus cell lines to determine which provided the most optimum immunological response. Additionally, mitochondrial adjuvants (2-D-glucose) were injected in mice to determine their antigenic responses. This step has prepared for future work in testing the response of the F protein in mice.
Subject Categories
Collections