Meeting the nitrate reduction goal: What will it take?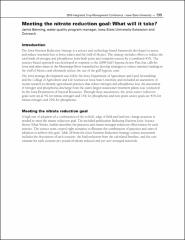 Altmetrics
Series
Proceedings of the Integrated Crop Management Conference
The Iowa State University Integrated Crop Management Conference is Iowa's premier crop production education event. No other program in Iowa brings together the diverse range of topics, slate of expert presenters and results of the latest University research.
The ICM Conference offers workshops focusing on the latest in crop production technology. Experts from Iowa and surrounding states will provide research updates and results in soil fertility, soil and water management, crop production and pest management.
Abstract
The Iowa Nutrient Reduction Strategy is a science and technology-based framework developed to assess and reduce nutrients loss to Iowa waters and the Gulf of Mexico. The strategy includes efforts to reduce the total loads of nitrogen and phosphorus from both point and nonpoint sources by a combined 45%. The practice-based approach was developed in response to the 2008 Gulf Hypoxia Action Plan that calls for Iowa and other states in the Mississippi River watershed to develop strategies to reduce nutrient loadings to the Gulf of Mexico and ultimately reduce the size of the gulf hypoxic zone.
Subject Categories
Collections