Dicamba: Past, present, and future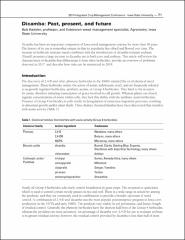 Altmetrics
Series
Proceedings of the Integrated Crop Management Conference
The Iowa State University Integrated Crop Management Conference is Iowa's premier crop production education event. No other program in Iowa brings together the diverse range of topics, slate of expert presenters and results of the latest University research.
The ICM Conference offers workshops focusing on the latest in crop production technology. Experts from Iowa and surrounding states will provide research updates and results in soil fertility, soil and water management, crop production and pest management.
Abstract
Dicamba has been an important component of Iowa weed management systems for more than 50 years. The history of its use is somewhat unique in that its popularity has ebbed and flowed over time. The increase in herbicide resistant weeds combined with the introduction of dicamba-resistant soybean (Xtend) promises a large increase in dicamba use in both corn and soybean. This article will review the characteristics of dicamba that differentiate it from other herbicides, provide an overview of problems observed in 2017, and describe how risks can be minimized in 2018.
Subject Categories
Collections