Differences Between Networked and Non-Networked Retailers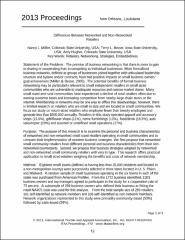 Series
International Textile and Apparel Association (ITAA) Annual Conference Proceedings
The first national meeting of textile and clothing professors took place in Madison, Wisconsin in June 1959. With a mission to advance excellence in education, scholarship and innovation, and their global applications, the International Textile and Apparel Association (ITAA) is a professional and educational association of scholars, educators, and students in the textile, apparel, and merchandising disciplines in higher education.
This site provides free, public access to the ITAA annual conference proceedings beginning in 2015. Previous proceedings can be found by following the "Additional ITAA Proceedings" link on the left sidebar of this page.
Abstract
The premise of business networking is that there is more to gain in sharing or cooperating than in competing as individual businesses. More formalized business networks, defined as groups of businesses joined together with articulated leadership structure and bylaws and/or contracts, have had positive impacts on small business owners' goal achievement (Miller & Besser, 2005). The potential benefits of formal business networking may be particularly relevant to small independent retailers in small sized communities who are vulnerable to inadequate resources and narrow market shares.
Subject Categories
Collections