Infusing popular culture into the museum experience via historic dress: Visitor perceptions of Titanic's Rose as a living history interpreter/character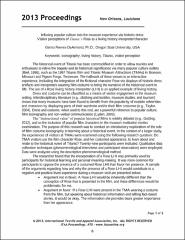 Series
International Textile and Apparel Association (ITAA) Annual Conference Proceedings
The first national meeting of textile and clothing professors took place in Madison, Wisconsin in June 1959. With a mission to advance excellence in education, scholarship and innovation, and their global applications, the International Textile and Apparel Association (ITAA) is a professional and educational association of scholars, educators, and students in the textile, apparel, and merchandising disciplines in higher education.
This site provides free, public access to the ITAA annual conference proceedings beginning in 2015. Previous proceedings can be found by following the "Additional ITAA Proceedings" link on the left sidebar of this page.
Abstract
The historical event of Titanic has been commodified in order to allow tourists and enthusiasts to relive the tragedy and its historical significance via many popular culture outlets (Biel, 1996), such as the 1997 Titanic film and Titanic Museum Attractions (TMAs) in Branson, Missouri and Pigeon Forge, Tennessee. The hallmark of these venues is an interactive experience, including the integration of the fictional character Rose via displays of historic dress artifacts and interpreters wearing film costume to bring the narrative of the historical event to life. The use of a Rose living history interpreter (LHI) is an applied example of living history.
Subject Categories
Collections