Exploring Patient Centered Care Through the Design of Personal Storage for Patients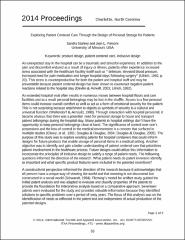 Series
International Textile and Apparel Association (ITAA) Annual Conference Proceedings
The first national meeting of textile and clothing professors took place in Madison, Wisconsin in June 1959. With a mission to advance excellence in education, scholarship and innovation, and their global applications, the International Textile and Apparel Association (ITAA) is a professional and educational association of scholars, educators, and students in the textile, apparel, and merchandising disciplines in higher education.
This site provides free, public access to the ITAA annual conference proceedings beginning in 2015. Previous proceedings can be found by following the "Additional ITAA Proceedings" link on the left sidebar of this page.
Abstract
An unexpected stay in the hospital can be a traumatic and stressful experience. In addition to the pain and discomfort endured as a result of injury or illness, patients often experience increased stress associated with the healthcare facility itself such as " delirium, elevated blood pressure, increased need for pain medication and longer hospital stays following surgery" (Ulrich, 1992, p. 20). This stress is counterproductive for both the patient and hospital staff and may be preventable because patient centered design has been shown to counteract negative patient reactions related to the hospital stay (Devlin & Arneill, 2003; Ulrich, 1992).
Subject Categories
Collections