The American Lolita Subculture: An Exploration of Self-Authentication, Postmodernism, and Social Belonging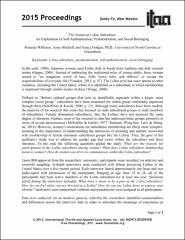 Series
International Textile and Apparel Association (ITAA) Annual Conference Proceedings
The first national meeting of textile and clothing professors took place in Madison, Wisconsin in June 1959. With a mission to advance excellence in education, scholarship and innovation, and their global applications, the International Textile and Apparel Association (ITAA) is a professional and educational association of scholars, educators, and students in the textile, apparel, and merchandising disciplines in higher education.
This site provides free, public access to the ITAA annual conference proceedings beginning in 2015. Previous proceedings can be found by following the "Additional ITAA Proceedings" link on the left sidebar of this page.
Abstract
Although many subcultures have been studied, the majority of the research that exists has focused on male subcultural groups or male members of subcultures. Female dominated subcultures, like the Lolitas, have not received the same degree of attention. Thus, the goal of this qualitative study was to address the gender gap that exists within the subculture and dress literature.
Collections