Symbolic Ingredient Branding to Promote Premier Locally Produced Material in Global Consumer Market: A Case of American Wild Alligator Leather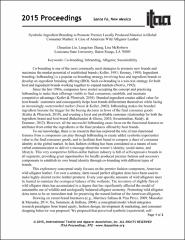 Series
International Textile and Apparel Association (ITAA) Annual Conference Proceedings
The first national meeting of textile and clothing professors took place in Madison, Wisconsin in June 1959. With a mission to advance excellence in education, scholarship and innovation, and their global applications, the International Textile and Apparel Association (ITAA) is a professional and educational association of scholars, educators, and students in the textile, apparel, and merchandising disciplines in higher education.
This site provides free, public access to the ITAA annual conference proceedings beginning in 2015. Previous proceedings can be found by following the "Additional ITAA Proceedings" link on the left sidebar of this page.
Abstract
Co-branding is one of the most commonly used strategies to promote new brands and maximize the market potential of established brands (Keller, 1993; Rooney, 1995). Ingredient branding (InBranding) is a popular co-branding strategy involving host and ingredient brands to develop an ingredient branding offering (IBO). Such co-branding is a win-win strategy for both host and ingredient brands working together to expand markets (Norris, 1992). This exploratory conceptual study focuses on the premier fashion component, American wild alligator leather.
Collections