The Origin of Anansi the Spider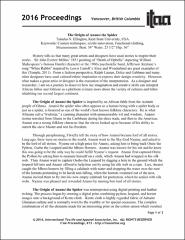 Series
International Textile and Apparel Association (ITAA) Annual Conference Proceedings
The first national meeting of textile and clothing professors took place in Madison, Wisconsin in June 1959. With a mission to advance excellence in education, scholarship and innovation, and their global applications, the International Textile and Apparel Association (ITAA) is a professional and educational association of scholars, educators, and students in the textile, apparel, and merchandising disciplines in higher education.
This site provides free, public access to the ITAA annual conference proceedings beginning in 2015. Previous proceedings can be found by following the "Additional ITAA Proceedings" link on the left sidebar of this page.
Abstract
The Origin of Anansi the Spider is inspired by an African fable from the Ashanti people of Ghana. Anansi had a dreamed to be lord of all stories, so he went to the Sky-God Nyame and made his request. Nyame gave him the mission of bringing back a python, a leopard, and a swarm of hornets and promised that if Anansi did this, he will become lord of the stories. Anansi was a greattrickster, and was able to use his cunning wit to fool the animals into coming back to Nyame with him. Anansi succeeded and was named lord of all stories. A digital print was created encompassing all the animals on Anansi's quest. This print was used as the exterior of the traditional Ghanaian mermaid dress silhouette. Anansi was created from an etched leather image of a Huntsman spider hand-sewn onto the dress.
Subject Categories
Collections