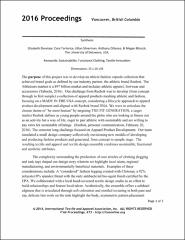 Series
International Textile and Apparel Association (ITAA) Annual Conference Proceedings
The first national meeting of textile and clothing professors took place in Madison, Wisconsin in June 1959. With a mission to advance excellence in education, scholarship and innovation, and their global applications, the International Textile and Apparel Association (ITAA) is a professional and educational association of scholars, educators, and students in the textile, apparel, and merchandising disciplines in higher education.
This site provides free, public access to the ITAA annual conference proceedings beginning in 2015. Previous proceedings can be found by following the "Additional ITAA Proceedings" link on the left sidebar of this page.
Abstract
The purpose of this design ensemble was to create a sustainable, yet functional, athletic wear outfit for our industry partners, Reebok. Considerations we had to take into account were the entire lifecycle of the garments, as well as highlighting local talent, regional manufacturing, and environmentally beneficial materials. Using materials such as Chitosan, a 92% polyester/8% spandex blend with the only antibacterial bio-agent finish certified by the EPA, natural dyeing techniques, and partnering with a local textile design studio, the ensemble illustrates how technical and sustainable attributes can be combined. Overall, the design showcases the body by using asymmetric lines and the subdued color scheme creates an edgy look that is wanted by Reebok's customers.
Subject Categories
Collections