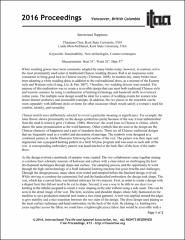 Series
International Textile and Apparel Association (ITAA) Annual Conference Proceedings
The first national meeting of textile and clothing professors took place in Madison, Wisconsin in June 1959. With a mission to advance excellence in education, scholarship and innovation, and their global applications, the International Textile and Apparel Association (ITAA) is a professional and educational association of scholars, educators, and students in the textile, apparel, and merchandising disciplines in higher education.
This site provides free, public access to the ITAA annual conference proceedings beginning in 2015. Previous proceedings can be found by following the "Additional ITAA Proceedings" link on the left sidebar of this page.
Abstract
White wedding gowns are commonly used by brides today; meanwhile red is the most prominent color in traditional Chinese wedding dress. The purpose of this exploration was to create a reversible design that can meet both traditional Chinese style and western romance by using a combination of knitting technology and handcraft skills in overstock cotton yarns. The multiple-wear design would be ideal for a series of wedding events for women who desires distinct aesthetics and sustainable concept. Additionally, the two pieces in the ensemble can be worn separately with different styles or items for other occasions which would satisfy a woman's need for comfort, identity, and versatility. Through this design, two collaborators came together aiming to combine their scholarly interests of knitwear and culture with a clear intent on challenging the knit development techniques through shape and surface using the a Stoll CMS-3 ADF knitting machine and M1plus software.
Subject Categories
Collections