Evaluating Thermal Comfort of Sweat-Management Fabrics for Sportswear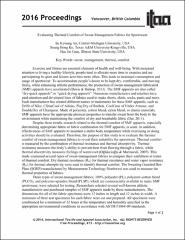 Series
International Textile and Apparel Association (ITAA) Annual Conference Proceedings
The first national meeting of textile and clothing professors took place in Madison, Wisconsin in June 1959. With a mission to advance excellence in education, scholarship and innovation, and their global applications, the International Textile and Apparel Association (ITAA) is a professional and educational association of scholars, educators, and students in the textile, apparel, and merchandising disciplines in higher education.
This site provides free, public access to the ITAA annual conference proceedings beginning in 2015. Previous proceedings can be found by following the "Additional ITAA Proceedings" link on the left sidebar of this page.
Abstract
Exercise and fitness are essential elements of health and well-being. With increased attention to living a healthy lifestyle, people tend to allocate more time to exercise and are participating in sport and leisure activities more often. To accommodate people's desire to be kept dry, comfortable, and moving freely, while enhancing athletic performance, the production of sweat-management fabricated (SMF) apparels have accelerated (Davis & Bishop, 2013). Numerous manufacturers and retailers have paid attention and developed lines of fabrics used to make shorts, shirts, socks, pants and more. Despite these trends, research related to the thermal comfort of SMF apparels, especially determining appropriate fabric or fabric combination for SMF apparels, is scant. Therefore, the purpose of this study is to evaluate the thermal comfort of sweat-management fabrics to reveal their suitability for sportswear. This study examined several types of sweat-management fabrics to compare their usefulness in terms of thermal comfort.
Subject Categories
Collections