The Designer/Embroiderer Relationship: A Comparison between Europe and India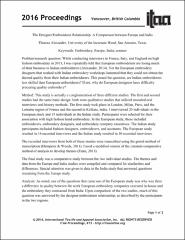 Series
International Textile and Apparel Association (ITAA) Annual Conference Proceedings
The first national meeting of textile and clothing professors took place in Madison, Wisconsin in June 1959. With a mission to advance excellence in education, scholarship and innovation, and their global applications, the International Textile and Apparel Association (ITAA) is a professional and educational association of scholars, educators, and students in the textile, apparel, and merchandising disciplines in higher education.
This site provides free, public access to the ITAA annual conference proceedings beginning in 2015. Previous proceedings can be found by following the "Additional ITAA Proceedings" link on the left sidebar of this page.
Abstract
An analysis of the similarities and differences in the fashion designer/fashion embroiderer relationship between the high fashion industry in Europe and the high fashion industry in India. The analysis seeks to answer the question, why do European designers have difficulty obtaining the same quality embroidery from India as from Europe. The analysis is the result of three separate studies: a qualitative study conducted in the embroidery ateliers of France, England, and Italy, a qualitative study conducted in the design workrooms of Kolkata, India, and a study designed to compare the findings of the previous two studies.
Subject Categories
Collections