Be Our Brand!: Emotional Labor and Social Media Branding Positions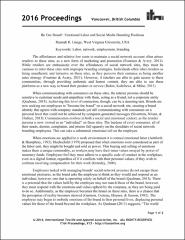 Series
International Textile and Apparel Association (ITAA) Annual Conference Proceedings
The first national meeting of textile and clothing professors took place in Madison, Wisconsin in June 1959. With a mission to advance excellence in education, scholarship and innovation, and their global applications, the International Textile and Apparel Association (ITAA) is a professional and educational association of scholars, educators, and students in the textile, apparel, and merchandising disciplines in higher education.
This site provides free, public access to the ITAA annual conference proceedings beginning in 2015. Previous proceedings can be found by following the "Additional ITAA Proceedings" link on the left sidebar of this page.
Abstract
Social networks sites have become a popular tool for companies to utilize when creating an online brand presence. Retailers are able to utilize social media as a tool to co-create alongside the consumer, creating new dimensions of the consumer-retailer relationships. However, as the affordances expanded, so did the need for individuals to manage these sites. Retailers began hiring individuals strictly to "be the brand†on their social network accounts, working as brand ambassadors to each individual consumer. The burdens of every consumer, all of their needs, desires, complaints, and praises fall squarely on the shoulders of social network branding employees. This can take a substantial emotional toll on the employee. As social media branding positions are often entry-level in the fashion industry, it is essential that faculty members understand and have open discussions with students regarding the pressures of these positions, to prepare them to enter this field.
Subject Categories
Collections