Teaching Fashion Design Senior Collections: A Three- Part Process from Design to Runway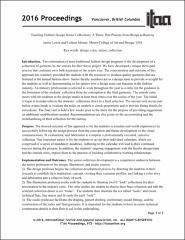 Series
International Textile and Apparel Association (ITAA) Annual Conference Proceedings
The first national meeting of textile and clothing professors took place in Madison, Wisconsin in June 1959. With a mission to advance excellence in education, scholarship and innovation, and their global applications, the International Textile and Apparel Association (ITAA) is a professional and educational association of scholars, educators, and students in the textile, apparel, and merchandising disciplines in higher education.
This site provides free, public access to the ITAA annual conference proceedings beginning in 2015. Previous proceedings can be found by following the "Additional ITAA Proceedings" link on the left sidebar of this page.
Abstract
The culmination of most traditional fashion design programs is the development of a collection of garments by the seniors for their thesis project. We have developed a unique three-part process that continues over both semesters of the senior year. The concentration and outcome of this approach has routinely provided the students with the resources to produce quality garments that are featured in the annual fashion show. Senior faculty members act as a design team to provide oversight for the students as well as demonstrating to the seniors how a design team can function in the fashion industry. An industry professional is selected to work throughout the year as a critic for the guidance in the formation of the students' collection from the conception to the final garments. The outside critic meets with the students in the design studio at least three times over the course of the year.
Collections