Exploring Millennials' Purchase Intentions toward Sustainable Luxury Brands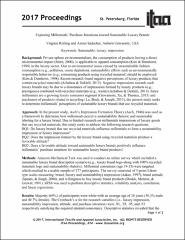 Series
International Textile and Apparel Association (ITAA) Annual Conference Proceedings
The first national meeting of textile and clothing professors took place in Madison, Wisconsin in June 1959. With a mission to advance excellence in education, scholarship and innovation, and their global applications, the International Textile and Apparel Association (ITAA) is a professional and educational association of scholars, educators, and students in the textile, apparel, and merchandising disciplines in higher education.
This site provides free, public access to the ITAA annual conference proceedings beginning in 2015. Previous proceedings can be found by following the "Additional ITAA Proceedings" link on the left sidebar of this page.
Abstract
Due to the environmental damage caused by unsustainable fashion consumption, sustainability efforts should be employed. Previous research has shown that sustainable luxury products containing recycled materials formed a negative impression possibly due to the dissonance between luxury associated with prestige and recycled materials associated with waste. This study used Impression Formation Theory targeting a growing luxury consumer segment, sustainability-conscious millennials, to determine their impressions, brand attitude, and purchase intention towards sustainable luxury brands using recycled materials. An online survey with a sustainable luxury brand description scenario (e.g., luxury brand logo along with 100% recycled materials logo and sustainability rhetoric) was used to determine millennials' impressions. Millennials perceived sustainable luxury products to exude the impression of luxury despite using non-luxurious recycled materials. Therefore, luxury brands are encouraged to cater to this pro-social group of luxury consumers by offering products that help the environment through reuse of materials.
Subject Categories
Collections