Locally-Owned Retail Stores and the Revitalized Downtown: An Investigation of the Role of Civic Engagement and Local Capitalism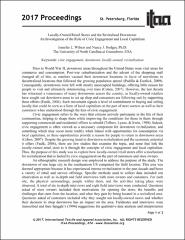 Series
International Textile and Apparel Association (ITAA) Annual Conference Proceedings
The first national meeting of textile and clothing professors took place in Madison, Wisconsin in June 1959. With a mission to advance excellence in education, scholarship and innovation, and their global applications, the International Textile and Apparel Association (ITAA) is a professional and educational association of scholars, educators, and students in the textile, apparel, and merchandising disciplines in higher education.
This site provides free, public access to the ITAA annual conference proceedings beginning in 2015. Previous proceedings can be found by following the "Additional ITAA Proceedings" link on the left sidebar of this page.
Abstract
Downtown areas were once vital areas for commerce and consumption. Suburbanization changed this, vacating downtown for decentralized locations following the population sprawl. Recently the renaissance of many downtowns across the US has occurred, as locally-owned retailers returned to downtown areas and consumers are following by supporting these efforts. Civic engagement is key for downtown revitalization, and may occur more readily when linked with opportunities for consumption via local capitalism, providing a reason for people to return to downtown. Despite trends in downtown revitalization, few studies examine the topic, none link the locally-owned retail store to concepts of civic engagement and local capitalism. The purpose of this study was to explore how locally-owned retail stores offer a mechanism for revitalization that is fueled by civic engagement through both customers and store owners employing an ethnographic research design. Findings indicate that through local capitalism, civic engagement is key to successful downtown revitalization.
Subject Categories
Collections