Uplifted: Future Direction in Sports Bras Design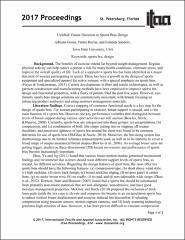 Series
International Textile and Apparel Association (ITAA) Annual Conference Proceedings
The first national meeting of textile and clothing professors took place in Madison, Wisconsin in June 1959. With a mission to advance excellence in education, scholarship and innovation, and their global applications, the International Textile and Apparel Association (ITAA) is a professional and educational association of scholars, educators, and students in the textile, apparel, and merchandising disciplines in higher education.
This site provides free, public access to the ITAA annual conference proceedings beginning in 2015. Previous proceedings can be found by following the "Additional ITAA Proceedings" link on the left sidebar of this page.
Abstract
The benefits of exercise extend far beyond weight management. Regular physical activity can help reduce a person's risk for many health conditions, eliminate stress, and improve the overall quality of life. Lack of a supportive sports bra has been identified as a major deterrent of women participating in sports. There has been a growth in the design of sports equipment and specialized apparel for active women, with a special emphasis on sports bras. Current developments in fiber and textile technologies, as well as garment construction and manufacturing methods have been employed to improve sports bra design and functional properties, with a flurry of patents filed the past five years. However, eco-friendly sports bras design solutions are commercially inexistent, with brands focusing on enhancing product aesthetics and using moisture management materials. Future direction in sports bras design is being proposed.
Subject Categories
Collections