Pattern Recognition Analysis of Acoustic Emission Data from 7075-T651 Aluminum Simulated Joint Specimens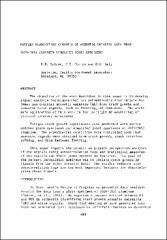 Series
Review of Progress in Quantitative Nondestructive Evaluation
Begun in 1973, the Review of Progress in Quantitative Nondestructive Evaluation (QNDE) is the premier international NDE meeting designed to provide an interface between research and early engineering through the presentation of current ideas and results focused on facilitating a rapid transfer to engineering development.
This site provides free, public access to papers presented at the annual QNDE conference between 1983 and 1999, and abstracts for papers presented at the conference since 2001.
Abstract
The objective of the work described in this paper is to develop signal analysis techniques that can automatically discriminate be-tween non-critical acoustic emission (AE) from crack growth and acoustic noise signals, such as fretting, of fasteners. The ultimate application of this work is for in-flight AE monitoring of critical aircraft structures.
Fatigue crack growth experiments were performed with center notched plate specimens and simulated joint specimens of 7075-T651 aluminum. The experimental conditions were controlled such that acoustic signals were obtained from crack growth, crack interface rubbing, and from fastener fretting.
This paper reports the results of pattern recognition analysis of the signals using autocorrelation lags and statistical measures of the signals and their power spectra as features. The goal of the pattern recognition analysis was to isolate crack growth AE signals from the other acoustic data. The results indicate that autocorrelation lags are the most important features for discriminating these signals.
Subject Categories
Copyright
Sat Jan 01 00:00:00 UTC 1983
Collections