Status of Advanced UT Systems for the Nuclear Industry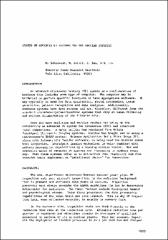 Series
Review of Progress in Quantitative Nondestructive Evaluation
Begun in 1973, the Review of Progress in Quantitative Nondestructive Evaluation (QNDE) is the premier international NDE meeting designed to provide an interface between research and early engineering through the presentation of current ideas and results focused on facilitating a rapid transfer to engineering development.
This site provides free, public access to papers presented at the annual QNDE conference between 1983 and 1999, and abstracts for papers presented at the conference since 2001.
Abstract
An advanced ultrasonic testing (UT) system is a configuration of hardware that includes some type of computer. The computer may be hardwired to perform specific functions or have appropriate software. It may typically be used for data acquisition, signal processing, image generation, pattern recognition and data analysis. Additionally, advanced systems have data storage and are, therefore, different from the standard transducer-pulser/receiver systems that rely on human filtering and written documentation of the filtered data.
Subject Categories
Copyright
Thu Jan 01 00:00:00 UTC 1987
Collections