One Sided Radiographic Inspection Using Backscatter Imaging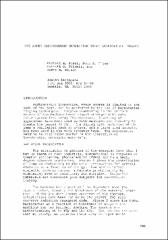 Series
Review of Progress in Quantitative Nondestructive Evaluation
Begun in 1973, the Review of Progress in Quantitative Nondestructive Evaluation (QNDE) is the premier international NDE meeting designed to provide an interface between research and early engineering through the presentation of current ideas and results focused on facilitating a rapid transfer to engineering development.
This site provides free, public access to papers presented at the annual QNDE conference between 1983 and 1999, and abstracts for papers presented at the conference since 2001.
Abstract
Radiographic inspection, where access is limited to one side of the part, can be performed by the use of backscatter imaging techniques. Compton scattering is the primary source of the backscattered signal strength with some contribution from x-ray fluorescence. A variety of approaches have been used in both medicine and industry to create the images [1–25]. The flying spot technique which uses a collimated beam of x-rays, and a large area detector has been used in the work reported here. The backscatter imaging is particular useful in the inspection of low-density, composite materials.
Subject Categories
Copyright
Sun Jan 01 00:00:00 UTC 1989
Collections