Effects of Pulse Distortion on Phase Velocity Measurements Using the Zero-Crossing Shift Technique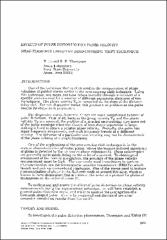 Series
Review of Progress in Quantitative Nondestructive Evaluation
Begun in 1973, the Review of Progress in Quantitative Nondestructive Evaluation (QNDE) is the premier international NDE meeting designed to provide an interface between research and early engineering through the presentation of current ideas and results focused on facilitating a rapid transfer to engineering development.
This site provides free, public access to papers presented at the annual QNDE conference between 1983 and 1999, and abstracts for papers presented at the conference since 2001.
Abstract
One of the technique that is often used in the measurement of phase velocities of guided elastic modes is the zero-crossing shift technique. Using this technique, one measures time delays (usually through a counter) of a specific zero-crossing for a number of different separation distances of two transducers. The phase velocity Vp is computed as the slope of the distance-delay plot. For non-dispersive waves, this produces no problem as the pulse retains its shape as it propagates.
Subject Categories
Copyright
Mon Jan 01 00:00:00 UTC 1990
Collections