Calculation of Eddy Current Fields for Coils of Arbitrary Shape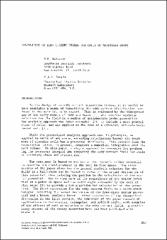 Series
Review of Progress in Quantitative Nondestructive Evaluation
Begun in 1973, the Review of Progress in Quantitative Nondestructive Evaluation (QNDE) is the premier international NDE meeting designed to provide an interface between research and early engineering through the presentation of current ideas and results focused on facilitating a rapid transfer to engineering development.
This site provides free, public access to papers presented at the annual QNDE conference between 1983 and 1999, and abstracts for papers presented at the conference since 2001.
Abstract
In the design of an eddy current inspection device, it is useful to have available a means of visualizing the eddy current distribution produced in the material to be tested. This is evidenced by the widespread use of the early models of Dodd and Deeds [1], who provided analytic solutions for the field in a number of axisymmetric probe geometries. The analytic approach was later extended [2–4] to include a more general class of coils, and was applied to the case of a circular, air-core horizontal coil [4].
Subject Categories
Copyright
Mon Jan 01 00:00:00 UTC 1990
Collections