3-D Finite Element Modeling of the Remote Field Eddy Current Effect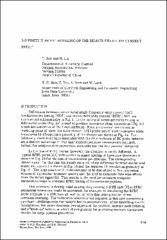 Series
Review of Progress in Quantitative Nondestructive Evaluation
Begun in 1973, the Review of Progress in Quantitative Nondestructive Evaluation (QNDE) is the premier international NDE meeting designed to provide an interface between research and early engineering through the presentation of current ideas and results focused on facilitating a rapid transfer to engineering development.
This site provides free, public access to papers presented at the annual QNDE conference between 1983 and 1999, and abstracts for papers presented at the conference since 2001.
Abstract
Differences between conventional single frequency eddy current (EC) nondestructive testing (NDT) and remote field eddy current (RFEC) NDT are summarized schematically in Fig. 1. In the testing of steam generator tubing, a differential probe (Fig. la) is used to produce impedance plane trajectories (Fig. lc) which are indicative of the tubes condition. From a numerical simulation or modeling point of view, the finite element (FE) prediction of such impedance plane trajectories [1-3] requires a geometry of the dimensions shown in Fig. le. The relatively small mesh sizes associated with the FE simulation of EC probe behavior are a distinct advantage in that only modest computer resources are required. Indeed, for axisymmetric geometries, such code can run on a personal computer.
Subject Categories
Copyright
Mon Jan 01 00:00:00 UTC 1990
Collections