Novel thermal-acoustic point transducer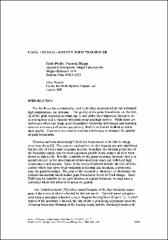 Series
Review of Progress in Quantitative Nondestructive Evaluation
Begun in 1973, the Review of Progress in Quantitative Nondestructive Evaluation (QNDE) is the premier international NDE meeting designed to provide an interface between research and early engineering through the presentation of current ideas and results focused on facilitating a rapid transfer to engineering development.
This site provides free, public access to papers presented at the annual QNDE conference between 1983 and 1999, and abstracts for papers presented at the conference since 2001.
Abstract
The Air Force has a continuing need to develop materials which can withstand high temperatures and stresses. The quality of the grain boundaries, i.e. the ability of the grain boundary to resist slip, is one of the most important factors in determining how well a material will resist creep and high stresses. While there are techniques which can image grain boundaries (ultrasonic microscopy and scanning electron microscopy of etched specimens), there is no known method to assess their quality. Thus there is a need to develop a technique to measure the quality of grain boundaries.
Subject Categories
Copyright
Fri Jan 01 00:00:00 UTC 1993
Collections