An Acousto-Ultrasonic NDE Technique for Monitoring Material Anisotropy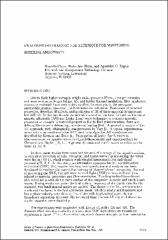 Series
Review of Progress in Quantitative Nondestructive Evaluation
Begun in 1973, the Review of Progress in Quantitative Nondestructive Evaluation (QNDE) is the premier international NDE meeting designed to provide an interface between research and early engineering through the presentation of current ideas and results focused on facilitating a rapid transfer to engineering development.
This site provides free, public access to papers presented at the annual QNDE conference between 1983 and 1999, and abstracts for papers presented at the conference since 2001.
Abstract
Due to their higher strength-weight ratio, greater stiffness, stronger corrosion and wear resistance, longer fatigue life, and better thermal insulation, fiber-reinforced composite materials have been widely applied, for example, in the aerospace, automobile, marine, spacecraft, and construction industries. Evaluation of material properties, detection of defects, and prediction of life of these material is important but difficult. In the last decade, considerable attention has been focused on the use of acousto-ultrasonic (AU) and Leaky-Lamb wave techniques to evaluate material properties or changes in material properties due to fiber misorientation, flaws an defects, fiber/matrix debonding, or external loading [1–4 AU approach, with bibliography, was presented by Vary setup with a personal computer (PC) used to analyze the AU waveforms was described by Kiernan and Duke [4]. Propagation of Leaky—Lamb waves in fiber-reinforced composites was investigated theoretically and experimentally by Chimenti and Nayfeh [10, 11]. A general discussion of elastic waves in solids can be found in Ref. 9.
Subject Categories
Copyright
Fri Jan 01 00:00:00 UTC 1993
Collections