Ultrasonic Sensing Simulation of CdTe Single Crystal Growth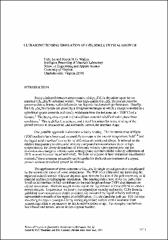 Series
Review of Progress in Quantitative Nondestructive Evaluation
Begun in 1973, the Review of Progress in Quantitative Nondestructive Evaluation (QNDE) is the premier international NDE meeting designed to provide an interface between research and early engineering through the presentation of current ideas and results focused on facilitating a rapid transfer to engineering development.
This site provides free, public access to papers presented at the annual QNDE conference between 1983 and 1999, and abstracts for papers presented at the conference since 2001.
Abstract
Today's infrared detector arrays consist of Hg1-xCdxTe deposited upon lattice matched Cd1-xZnxTe substrate wafers. Very high quality Cd1-xZnxTe crystals must be grown so that substrate wafer defects do not degrade the detector's performance. Usually, the Cd1-xZnxTe crystals are grown by a Bridgman technique in which a charge is melted in a cylindrical quartz ampoule and slowly withdrawn from the hot zone (at ~ 1100°C) of a furnace.1 The best quality crystal is obtained from material solidified under plane front conditions.2 This is difficult to achieve, and a need has arisen for insitu sensing of the growth process to characterize, and ultimately control, the interface shape.
Copyright
Fri Jan 01 00:00:00 UTC 1993
Collections