Software Package and Application Systems in Meat Quality Evaluation and Prediction for Live Animals and Carcasses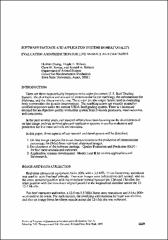 Series
Review of Progress in Quantitative Nondestructive Evaluation
Begun in 1973, the Review of Progress in Quantitative Nondestructive Evaluation (QNDE) is the premier international NDE meeting designed to provide an interface between research and early engineering through the presentation of current ideas and results focused on facilitating a rapid transfer to engineering development.
This site provides free, public access to papers presented at the annual QNDE conference between 1983 and 1999, and abstracts for papers presented at the conference since 2001.
Abstract
There are three economically important traits under the current U. S. Beef Grading System: the distribution and amount of intramuscular fat (or marbling), the subcutaneous fat thickness, and the ribeye muscle size. These traits are also major factors used in evaluating body composition for genetic improvement. The marbling scores are visually graded by certified inspectors under the current USDA Beef grading system. There is a increased demand for an objective quality evaluation system from livestock producers, meat industries, and consumers.
Copyright
Sun Jan 01 00:00:00 UTC 1995
Collections