Eddy Current Characterization of Flaws in NiCoCrAlY-Coated Nickel-Base Superalloys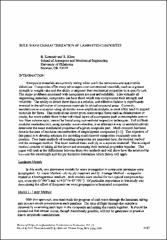 Series
Review of Progress in Quantitative Nondestructive Evaluation
Begun in 1973, the Review of Progress in Quantitative Nondestructive Evaluation (QNDE) is the premier international NDE meeting designed to provide an interface between research and early engineering through the presentation of current ideas and results focused on facilitating a rapid transfer to engineering development.
This site provides free, public access to papers presented at the annual QNDE conference between 1983 and 1999, and abstracts for papers presented at the conference since 2001.
Abstract
Increases in performance of power generating combustion turbine engines have driven up operating temperatures and placed greater demands on turbine components. To meet these increased demands, some components such as fan blades, are fabricated from Inconel and Udimet superalloys and are coated with 0.10 to 0.15 mm of NiCoCrAlY. This coating affords the blades protection against oxidation and particle erosion, and provides a degree of thermal insulation to lower blade operating temperatures.
Copyright
Mon Jan 01 00:00:00 UTC 1996
Collections