Simple Thermal Wave Method for the Determination of Longitudinal Thermal Diffusivity of SiC-Based Fiber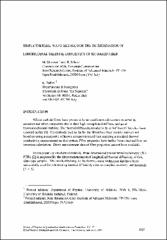 Series
Review of Progress in Quantitative Nondestructive Evaluation
Begun in 1973, the Review of Progress in Quantitative Nondestructive Evaluation (QNDE) is the premier international NDE meeting designed to provide an interface between research and early engineering through the presentation of current ideas and results focused on facilitating a rapid transfer to engineering development.
This site provides free, public access to papers presented at the annual QNDE conference between 1983 and 1999, and abstracts for papers presented at the conference since 2001.
Abstract
Silicon carbide fibres have proven to be an excellent reinforcement material in ceramics and other composites due to their high strength and stiffness and good thermomechanical stability. The thermal diffusivity/conductivity of SiC based fibres has been reported earlier [1]. The methods used so far for the fibres have been mainly indirect and based on using a composite of known composition and then applying a standard thermal conductivity measurement on that system. Fiber properties have further been obtained from an inversion calculation. Direct measurement data of fibre properties has not been available.
Copyright
Thu Jan 01 00:00:00 UTC 1998
Collections