Work in Progress: FLEx—Iowa State University's Mobile Technology Classroom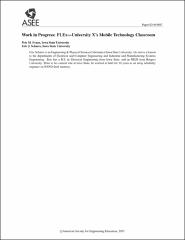 Department
Industrial Design
Reference and Instruction
Abstract
This proposal describes the FLEx (Forward Learning Experience) program, a mobile learning environment in a 16-foot trailer designed to deliver advanced technology outreach to students around the state of Iowa. A joint effort of Iowa State University's College of Design, College of Engineering, and Extension and Outreach, the FLEx has engaged 35,000 K-12 students, educators, and families in 171 events since the fall of 2014.
The trailer provides hands-on experiences with virtual reality, immersive visualization, prototyping, augmented reality through an Oculus Rift, interactive circuit building, a Makerbot for 3D printing, and a CNC (computer numerical control) router for complex precision material cutting. The FLEx utilizes learning theories such as constructivist, experiential and situational learning, universal design and game theory, and supports tinkering, play, and self-directed exploration. An early informal program review showed that Design and STEM interest among grades 3-8 increased 72% due to exposure to the FLEx.
The FLEx is a groundbreaking program which improves a land-grant university's potential to reach its state constituents in a novel and focused manner. The program has received national awards, recognition, and interest in its early and initial configuration.
Future work will partner with University Extension and 4-H to build capacity to increase exposure and provide this experience to many more students across the state, with a particular focus on supporting rural students and underserved communities. Research is ongoing and being formally proposed to show the educational benefits of the program through workshops and longterm positive outcomes in partnership with state-level educational task forces.
Comments
©2017 American society for Engineering Education. ASEE Annual Conference Proceedings, June 25–28, 2017, Columbus, OH.
Subject Categories
Copyright
Sun Jan 01 00:00:00 UTC 2017
Collections